U.S. stock indexes on Tuesday settled with moderate gains with the S&P 500 and Nasdaq 100 at fresh all-time highs. A rally in technology stocks on Tuesday led the overall market higher. Also, stronger-than-expected manufacturing activity in Asia and the U.S has bolstered global economic prospects and gave equity prices a lift. The S&P 500 is up five months in a row and has climbed 35.4% over this period, the best ever. The previous best was 34.3% off the 2009 lows, and the S&P 500 went on to add another 8.7% six months later. Past results don't guarantee anything.
Apple jumped more than +4% at a new all-time high after it asked its suppliers to build at least 75 million 5G iPhones this year, close to last year's numbers, and a sign that demand for its products is holding up. Also, Zoom Video Technologies surged more than +40% on Tuesday to a record high after the company reported quarterly earnings and provided forward guidance that was well above the most optimistic estimates. Strength in manufacturing activity in the U.S. and Asia also boosted stocks on Tuesday. The U.S. Aug ISM manufacturing index posted the fastest pace of expansion in 1-3/4 years. Also, the China Aug Caixin manufacturing PMI unexpectedly rose and posted the fastest pace of expansion in 8-3/4 years.
In the FX world, the EUR/USD pair pushed through the key 1.2000 psychological mark for the first time in more than two years. The momentum was exclusively sponsored by persistent selling around the US dollar amid expectations that the Fed will keep interest rates lower for longer. Some profit taking followed and on Wednesday morning the pair is consolidating above 1.19.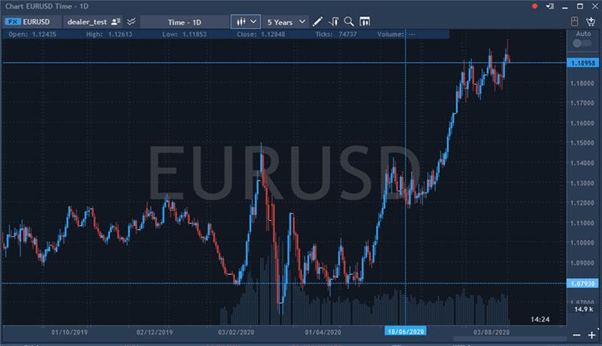 06:00 (UK time): EUR Germany Retail Sales YoY (JUL)
06:00 (UK time): GBP Nationwide Housing Prices YoY (AUG)
12:15 (UK time): US ADP Employment Change (AUG)
14:00 (UK time): US Factory Orders MoM (JUL)